Written by Alan Kline
Thursday, May 21 2009 13:27
If you grew up in Eastern Iowa between 1961 and 1981, you probably grew up watching Dr. Max--Max Hahn-- on WMT-TV. No one ever said what kind of doctor Max was--he just sat there in his living room and showed cartoons every afternoon. His friend Mombo the clown would make regular visits to befuddle the Doctor and do magic tricks.
The "Dr. Max Show" was from the old school of children's television--the school where any local station worth its license had a daily kids' show, and chances are, a kid would learn things without even trying. There were plenty of cartoons--"Colortoons" to Max--Bugs Bunny and friends, Popeye, and more. But in between, Dr. Max would often talk about things like books, pets, or the fun things that kids could do through the Cedar Rapids Parks and Recreation department. I learned to value books that way. As a 3- or 4-year-old, I was like most kids--I left my books piled every which way in my room. That is, until I saw that Dr. Max took care of his books and put them away when he was done reading. I started doing the same...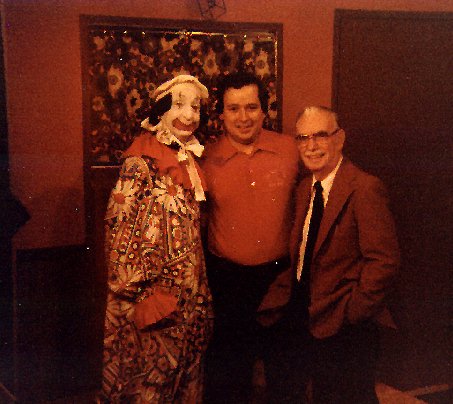 A feature of the show in the early days included the " Chickenpox List", the "Measles List", and the like. Dr. Max would read the names of kids who were sick with one of those ailments and encourage them to get better. I still remember hearing my name on the Chickenpox List. It had to be in early 1967, because I remember Dr. Max doing the show from the hallways of Broadcast Park--the studio was unavailable because it was being converted to color broadcasting, and that was the spring of '67. Funny how you remember things like that...
In the fall of 1980, I was a junior in broadcasting at the University of Iowa, about 30 miles down the road in Iowa City. I was far enough along that it was time to start looking for an internship.  Back then, there were basically two choices--WMT-TV, channel 2, and Dr. Max's home; and KCRG-TV 9. I decided to apply at channel 2, hoping for the chance to work with Dr. Max and Mombo. To my delight, I was selected--possibly because no one else had called to ask about internships, but I wasn't complaining.
And I wasn't the only student at the UI who was a Dr. Max Show fan. Some of the guys downstairs from me on the third floor of Daum Residence Hall had formed the "Men of Mombo". They even had T-shirts made up with "MOM" on them, and a plaque from the group was on the wall of the set until the end.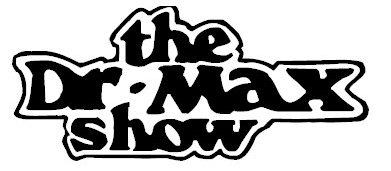 When the spring semester started in January, 1981, one of my classrooms was the studio at WMT-TV, three days a week. I started out running the microphone boom--no wired mics for these guys, and few stations had wireless mics back then. Of course, running boom is about as useful in local TV these days as editing film, but that's ok. Later, I moved on to running camera--usually camera 2, which was the one used most often. The end of my first week happened to be the 20th anniversary of the Dr. Max Show, and the first time I received an on-air credit for anything. Max himself came out of the control room to ask how my name was spelled, for the character generator.
Max, to my surprise, turned out to be a pretty regular guy. He and I would sit around and talk before the show about the most recent Hawkeye basketball game. Max knew as much as anyone about Lute Olson, Ronnie Lester, and company, but still loved to talk to someone who could actually go to the games. Of course, I was a season-ticket holder, and scheduled my internship so that I wouldn't be working on game nights...
Mombo--in real life, Fred Petrick--was probably the kindest, most gentle man--and gentleman--I've met in 30 years of television. He wasn't just the kind clown on the air, he was just as kind off camera. His greatest joy in life was making children happy, and he loved to entertain the kids who came to visit the show. It didn't matter if we weren't on air--he just loved seeing kids smile.
We might have been doing a kids' show, but we were still plugged in to current events. January 20, 1981 marked the end of the Carter administration, the beginning of Reagan's, and the end of the Iran hostage crisis. This was of special interest to us because one of the hostages, Kathyrn Koob, was an eastern Iowan. We waited to hear the news that the hostages had been released, and Dr. Max dedicated that day's show to her. (Every day's show was dedicated to someone...)
Then came March 30, 1981. That was the day when John Hinckley, Jr. attempted to assassinate President Reagan. I was just leaving my apartment in Iowa City, headed towards the station, when I heard Vince Lloyd, the voice of the Chicago Cubs on WGN, hoping and praying that the president was ok. I think I made the 30 miles to Cedar Rapids in about 15 minutes...
At the station, chaos had calmed down. Back in those days, television networks were received by using telephone company lines--and our one and only line from Chicago chose that afternoon to die--just a few moments after first news of the assassination attempt. By the time I got there, Ma Bell had her act together and we were back with CBS. We all sat around in the lunchroom watching the network--and wondering if we would be doing the show that day. Dr. Max and Mombo were in full makeup and costume and were ready to go. That was about the time Secretary of State Alexander Haig made his famous "I am in control at the White House" announcement. We looked at the TV, then at Mombo, and wondered who was the bigger clown. Haig won.
It was a great semester, and I think I had as much fun, or more, doing the Dr. Max show as I did working the 6 and 10pm newscasts. Of course, my friends in Iowa City were much more impressed that I worked with Max than they were with my work on the news...
Eventually, all good things must come to an end. School ended for the summer, and with it, my work at WMT-TV. Early in the summer, the show was moved from its traditional, live 3:30 pm time slot to a pre-recorded show at 7:30 in the morning. I kept in touch with everyone, of course, and by fall heard the really bad news. Times were changing, and channel 2 was being sold. The new owners had no room for a kids' show, and that meant that Dr. Max would soon be showing his last "colortoon". I received special dispensation to miss marching band rehearsal to drive up to Cedar Rapids for the taping of the last show. (Good thing the Hawkeyes were on the road that week...) Somehow, they were short-handed that day, and I stepped in to floor-direct the last show. It was a little busier than usual in the studio that day--we normally didn't have newspaper photographers running around. I got a bit confused, and allowed the photographer to walk out the door of the set into Max's "yard" while we were still on the air. No big deal...
Before we could do anything about it, the last show came to an end. Dr. Max had finished packing, and for the last time told the kids to "Take it easy, play it safe, and be careful". Max and his friends walked out the door one last time and waved good-bye. Eastern Iowa television has never been the same...
Multimedia...
A few audio clips from the Dr. Max show are in our downloads section.
The theme music from the show was always "The Happy Whistler". When Dr. Max premiered in 1961, the show used the original Don Robertson version. By the time I arrived at WMT-TV in 1981, a cover version was used--heavy on the brass. I've been looking for that version for ages, and finally found it. It's a track from "The Academy Brass" (Ever hear of them? Neither had I...), from their album, "Alright, Okay, You Win!". The opening and closing sections, with whistling (or an approximation thereof) were not used--the air version starts about 27 seconds in.
Both the Robertson and Academy Brass versions are available as mp3 downloads from amazon.com. For obvious reasons of copyright, the full versions are not posted here.
More about Dr. Max and Mombo from KGAN (successor to WMT-TV)